Introducing new and innovative products to help your child continue learning while having fun at the same time! Our awesome assortment of microscope is paired with books, computer software, real samples of specimens to examine, and more. All to keep the fun and learning going.
85+ Piece Kid's Premium Microscope Kit with Digital Camera
Boasting over 85+ pieces, this immersive and complete exploration kit has all the necessary tools required for microscopy. The kit also includes a digital camera and interactive kids' software, perfect for the virtual classroom!
An AmScope Exclusive!

Premium Portable LCD Color Digital Microscope Activity Kits
Introducing Amscopes new Look and Learn™ microscope and activity kits. We've paired our fantastic 3.5-inch screen portable LCD microscope with specimens to examine, books, and more to create an engaging activity kit for your child.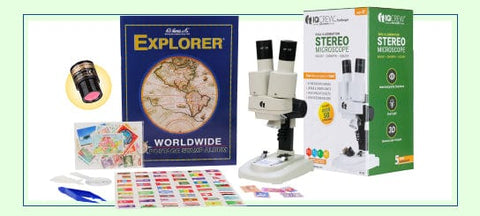 Deluxe Dual-Illumination Stereo Microscope Kits
With a variety of complete kits to choose from, the Deluxe Dual-Illumination Stereo Microscope brings the world unseen into focus. The bundle includes several activity options like studying fossils, minerals, and more! Enhance your child's learning experience with an optional digital camera.

Easy-To-Use Handheld Microscope Kits
Taking your observation tools on-the-go has never been so easy. Our pocket-sized microscopes enable your young explorer to observe the microscopic world with ease. We've also matched these microscopes with activity kits and accessories to elevate the learning experience for your child.
Free shipping on orders over $75
Fast and Same Day Shipping for orders
within the contiguous U.S
Easy 30 Day Returns
Purchase with confidence with our simple 30 day return policy
Quality Products
Enjoy high performance products
with a five year warranty on
AmScope Microscopes.
Do you have a question?
Our dedicated customer service team
is ready assist and find the products
you need.
Sign up today and get 10% off your next purchase!